Whether you are a bride, guest or maid of honour, getting your aso ebi game on point is the key to unlocking your confidence. There are a dozen styles to choose from, but these hot and latest aso ebi styles in 2023 will hold the room spellbound! Join the "pepper dem gang" with these gorgeous and hot aso ebi masterpieces.
Saturdays are for what? Owambe( party)! Turning up the heat with the latest, hottest aso ebi style in 2022 is the bomb. Of course, it's the start of wedding season as December approaches. Since the aso ebi culture is unrivalled, plugging into the elegant, contemporary, and subtly sexy fashion rave is great. Even your favourite richest actresses are not left out of the aso ebi slay party.
The word "aso ebi" means the clothes for the family; it is a uniform material that African families wear for special occasions to show solidarity for the dead or the living.
Choosing the latest aso ebi styles is totally up to you, but remember to stay true to yourself and wear what you are comfortable with; it might be the latest ankara short gowns. One rule of thumb is not to overdress, especially if it is a friend's event. In simpler terms, do not outdo the bride or host in your outfit.
Also, pay attention to the colour palettes and hues for any aso ebi style. Aso ebi material or fabric can vary from ankara, lace, and sequins to velvet materials.
Aso ebi outfits can be the latest ankara gown styles for ladies. Aso ebi is a staple fashion ensemble for both burials and weddings, so if you are looking for the latest and hottest also ebi styles in 2022, we brings to you the trendy list of fashionable ankara styles.
Aso ebi styles with lace fabric
Lace fabric comes in beautiful patterns, and using this fabric for your aso ebi style will make all the difference. Aso ebi lace styles have a special way of giving you an elegant and breathtaking look. The details on each aso ebi lace design set you apart.
Experiment with different aso ebi style designs and patterns. It could be see-through lace, beaded lace, or lace with sequins. Check out some hot aso ebi lace inspirations below.
1.Off shoulder aso ebi corset
The purpose of this aso ebi attire is usually for traditional weddings and is supposed to be decent. However, you can make the style edgy by showing some skin with this off-shoulder corset style. Here, the sleeves hang loosely or are fitted around your shoulders. Adding lovely beaded jewellery or a neckpiece will draw attention away from your shoulders.
The hugging corset will accentuate your narrow waist, while your almost bare shoulders will give you an evenly proportioned look—particularly if you have small shoulders. The fabric can be lace or ankara, depending on your preference.
2.Aso ebi lace style with bell sleeves
Turn heads in this regal aso ebi lace style inspiration. Flaunt your elaborate bell sleeves and take elegant strides across this room as you stylishly swing your hands to show off the details in the sleeves.
The beauty of this aso ebi style lies in the sleeves. The gown can be a straight cut to accentuate your gorgeous body and leave your sleeves to do the talking.
3.Bodycon one-sleeve aso ebi lace style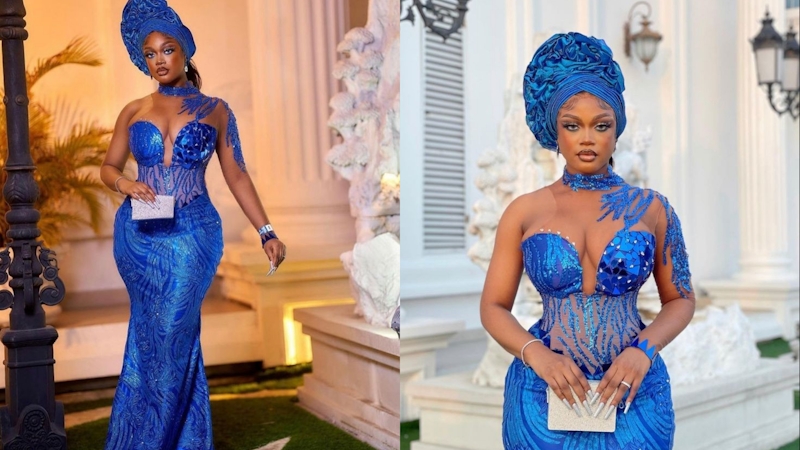 Spice up your aso ebi lace style with this hot fashion piece. If you have curves in all the right places and aren't afraid to flaunt them, this should be your next aso ebi style.
Nigerian occasions can be fun, and in this bodycon, one-sleeve aso ebi style, you will be the talk of the party. Throw in nude make-up and top it off with comfortable pencil or block heels. You can decide to add some extra details to the one-sleeve to create more drama.
4.Tube high thigh slit aso ebi style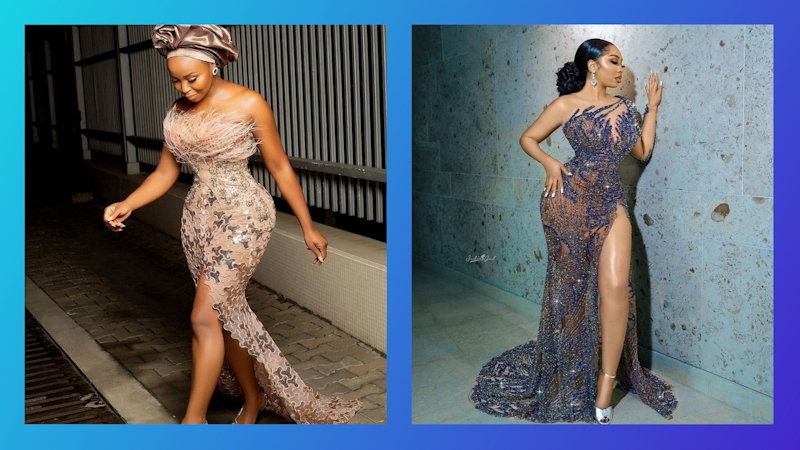 Are you a wedding guest or the sister of the bride? Add some daring details to your lace aso ebi style in this tube thigh slit gown. To avoid any fashion fails, make sure to give your fabric to a skilled fashion designer.
This aso-ebi lace style can also be achieved with skin-coloured net to create a tub-like illusion. This style can also be worn for dinner dates or award nights.
5.Turtleneck aso ebi lace style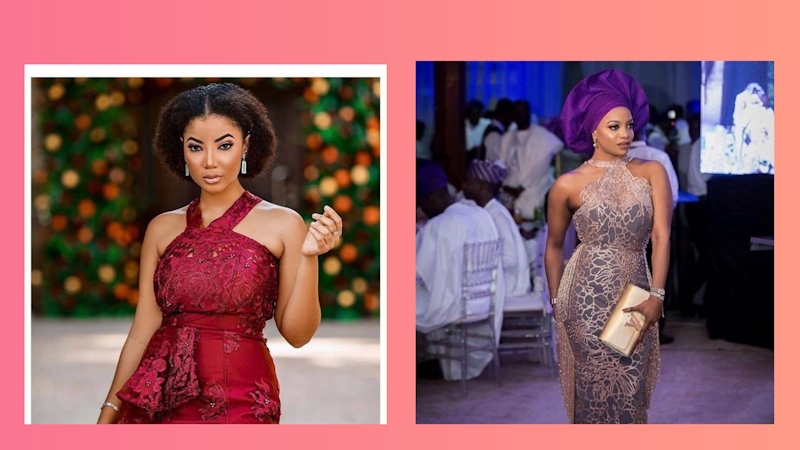 Lace fabrics are shimmery and glamorous. Pairing up glamour with style, is a power combo and adding the turtle neck detail is all the difference to stand out. Grab the attention of your crush with this amazingly hot aso ebi lace style.
6.Fringe-sleeved aso ebi lace style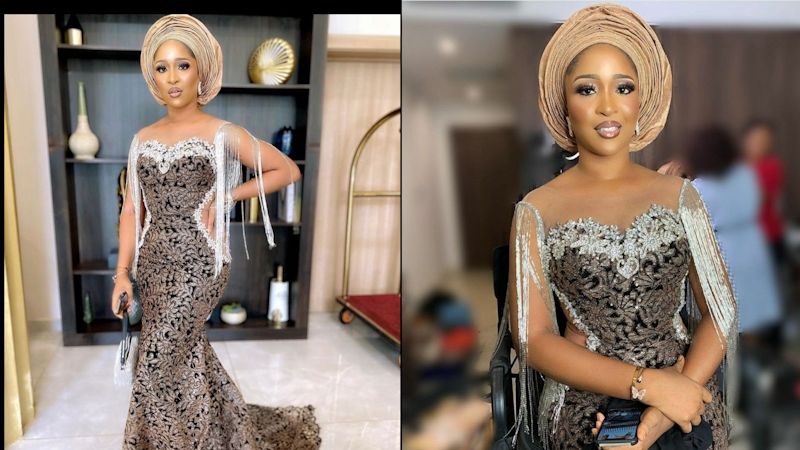 Unlock a new elegance level with the perfect fringe sleeve. Lace fabrics determine style, especially due to pattern or design details. However, you can get away with these unique, frilly fringed sleeves.
The type of lace fabric tends to determine what style you can recreate with it, but with this lace fabric, you can create something unique. This style is sure on the list of favourite aso ebi styles for many.
Trendy ankara aso ebi styles
Ankara fabrics are also a great aso ebi ensemble. You can dazzle in different ankara prints depending on the style and colour of the day. Check out some hot and sassy ankara aso ebi styles in 2023
7.Bishop sleeves panel ankara aso ebi style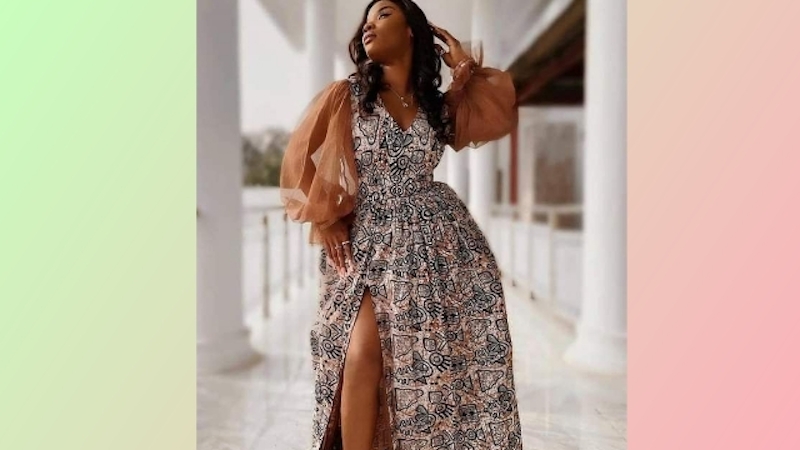 The ankara bishop panel aso ebi style is all shades of elaborate and stylish. This attractive aso ebi ankara style will make you the cynosure of all eyes as you step out to make a statement. Grab a cute silver purse to go with some lacy sandal heels to match.
8.Long sleeve bishop neck aso ebi style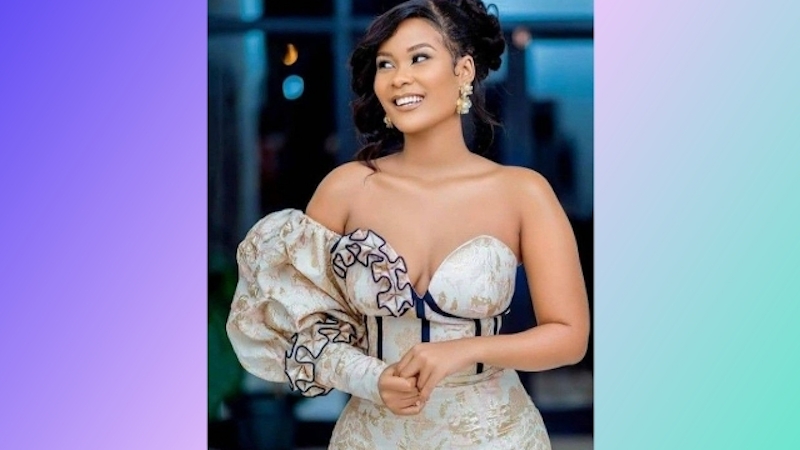 Tapering towards modesty and decency, but with a hint of attractiveness? Then this long-sleeve bishop-neck ankara aso ebi style will do the trick.
9.Asymmetrical with angel sleeves ankara aso ebi style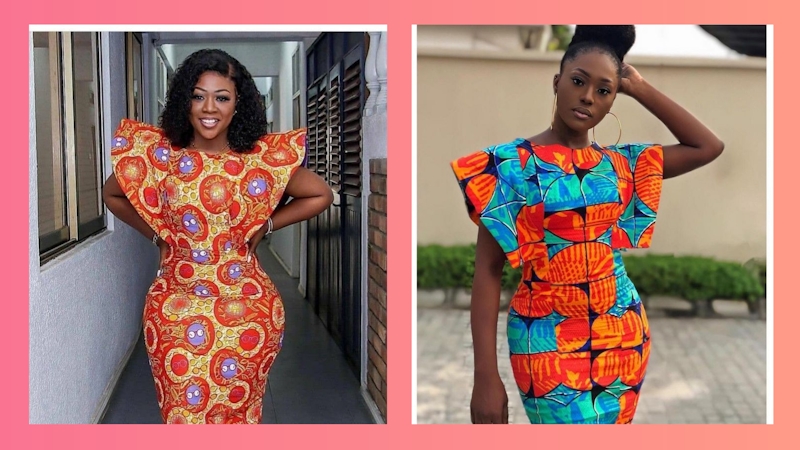 Try this angelic ankara asymmetrical aso ebi style and leave mouths open in awe with this subtle, dramatic look. The angled sleeves add a fashionable statement to your confidence and speak volumes of your sense of style.
10.Open sleeves ankara aso ebi styles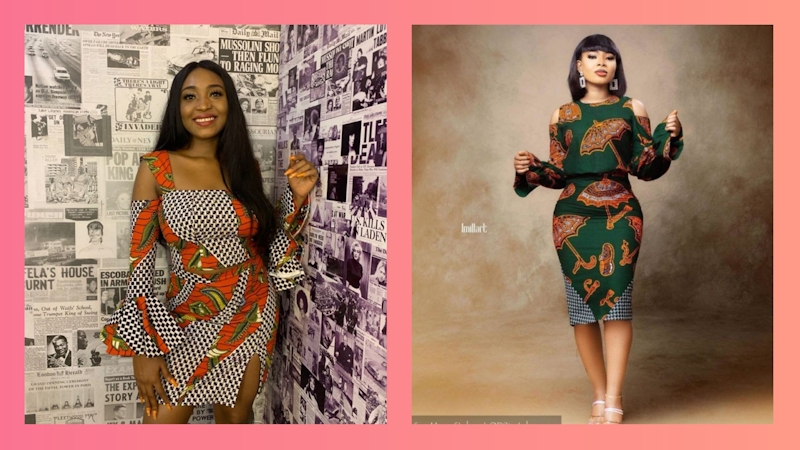 Try out this cute and chic fashion aso ebi statement. Request that your designer recreate this aso ebi style; you can style the sleeves however you like. It can be worn for weddings and other occasions.
11.One-sided cape sleeve ankara aso ebi style
This is one ankara aso ebi you can not say no to. Its unique design leaves all to be desired, grabs attention and stands out on the dance floor in this aso ebi style.
The slash sleeves give off a bold and sexy fashion statement without any sultry hints. Although, if you are not a fan of open sleeves, you can go for something a lot simpler.