It's important for every aspect of the wedding to go perfectly and that includes your manicure. If you look perfect, you feel perfect on your special day!
So, we gathered up 50 wedding nail designs for you to choose from, some more traditional than others, some screaming for attention, others more subdued. Whatever your style is, we're sure you'll find something to match it, allowing you to feel special every time you glance at your nails.
Wedding Nail Designs
There are countless wedding nail designs, and we're sure that even when your wedding day you choose one from here, you'll bring some alterations to it, or your nail technician will add a touch of its own. In the end, it's going to come out perfectly!
1. Pink & Gold Accent
The Knot starts us off with this pretty idea that includes natural pink tones and small, golden accents. We love how these digits have been dressed with just a bit extra style. And even though you did something "extra" it doesn't make the end result any less bridal.
2. Gold & Pink Chevron
Here's another great idea for your day of manicure. Take a peek over at Brit + Coto gain lots and lots of new nail ideas. But this one in particular, make with natural colors and a chevron, golden sparkle design, adds the right amount of "special" to the bride-to-be's overall look.
3. French Tip with Sparkling Bow
Of course, a classic French tip will always be a great choice. Whether you want to go with a longer or shorter nail design, is completely up to you! We love how this set has a sparkling bow accent though, punching up the style for the special occasion!
4. Lace Prints
Why not learn how to add some lace to your nails? You can match your dress to your digits with a little help from this YouTubevideo. Blushing pinks, natural whites or even deeper shades of blue would look gorgeous underneath the design.
5. Sparkling Ombre
Glamour got in on the wedding nail idea action as well. If you love a bit of sparkle, then you'll definitely love these glitter ombre nails. Shimmer and shine from top to bottom as a blushing bride!
6. French Tip with Glitter
Wedding Bee showed off another French tip idea that included some sparkle as well. This time, the tip is outlined with a bit of glitter. That extra bit of "special" is the perfect way to amp up the digits for your big day, don't you think?
7. Natural Ombre
Pinterest has a lot of ideas as well, as we all know. And that's where we found this subtle and posh natural ombre nail. We love how romantic and clean this look is. It'll also fit all kinds of brides – no matter their personal style.
8. Sparkle with Gold Heart
Sparkle nails will always work for celebratory events as well. And this time, they're being accents by one, dainty golden heart. Nail Smiles has all the inspiration behind this girlishly charming design.
9. Blue Tips
A personal favorite on the list, you'll have to visit The Coveteurto check out the easy-to-follow tutorial. This could be your something blue! We love the innovation, the surprise but also the subtly behind the uniqueness.
10. White with Silver Tips

The Knot had this beauty up their sleeve as well and we had to feature it too. White nails with a silver French tip, it's the perfect combination of sass and bridal spirit. And it's easy to do yourself if you want to skip out on the salon and keep your budget tight.
11. Floral & Glitter
Sarah Lou mixed some of her favorite designs in to one, overall look. A bit of sparkle, a bit of glitter and a dash of pink; it's the perfect springtime bride combination! Hop on over now and check out her personalized details now.
12. Skin Tone with Gold Accents
Good neutral tones are a great way to don your digits for the day you say, "I do." You can even accent it with a bit of gold or silver sequins like you see here. Going with subtle shades are always a good choice as to not draw attention away from the wedding gown, of course!
13. I Do
We found this fun idea on Pinterest and couldn't help but swoon for the charm. Natural nails with a pop of "I do" can be rather cute, don't you think? Add a sparkle and you're finished! This is another one that you can easily recreate at home as well.
14. Marbled
Marble is very "in" right now. Everything from fashion to interior design is taking on the natural look. And that goes for these nails at The Knot as well. Why not add some trendy appeal to your bridal day style?
15. Dark Blue
This rich blue could be the accent and the "something blue" you've been looking for. Check out this easy and chic design we found over at Wedding Bee. Any bride could rock this look with ease!
16. Negative Space
A really cool idea you could follow for your wedding is this negative space manicure. Go for a nude nail polish shade, a metallic streak and some negative space at the base of the nail. Cassandre Marie's design looks so cute!
17. Luxurious Lace
If you want to add a bit of your dress design to your nails, you can ask the nail technician to replicate the lace in your dress on your nails. Well, as close as possible, at least. Using nude nail polish will help the white lace design to stand out. @Purplenailbox makes this design look so classy and beautiful.
18. Pearly Nails
Hang Nguyen shared a really cute idea over on Instagram, using a nude nail polish and adding a half pearl bead to every nail. If your dress has pearly details or you're wearing similar accessories, then this may be the right manicure for you.
19. Inverted Black and Gold French
Sure, most brides will go for soft nail colors, but you can always opt for something with a bit more personality like black and gold. An inverted French manicure using these colors will certainly make you stand out, but it does have to 'go' with the theme, so make sure it all ties together. What a beautiful design from @laurenslist.
20. Gold Outline
If you want to toe the line between subdued and standout, you may want to give this manicure design a try. You go with a nude nail polish shade, but make sure you outline your entire nail with a gold trim. Such a pretty design from @betina_goldstein on Insta.
21. Swirly Silver
Another design you may want to try is this swirly silvery one. Not only will those cute silvery lines make your nails stand out, but they'll also give you that shimmery element that will make you feel special. Try out the design we found on Naildit since it's not too difficult to make, even on your own.
22. Love Nails
You can spell your love on your nails if you want to! This really cute design will seem pretty plain until you take a closer look. The design looks so cute and the matte background makes the lettering stand out so nicely.
23. Acrylic Wedding Nails with Sparkly Design
Too much sometimes really is to be avoided, especially when you have long nails. So, if you're hoping to add some sparkle to your nails on your wedding day, you may want to only keep the jewels to a nail or two only. Check out the design from @lee.6ixnails.
24. Something Blue
Going for a plain design will look cute, but your nails will stand out if you add some sparkly blue rhinestones. You can have them added in different spots on each nail, adding a bit of organized chaos. Check out the design from @betina_goldstein.
25. Thin French
A cute thing you could do is to paint your nails a nude shade and then add a tiny sliver of color to the very tips, similar to a French manicure. If you have a color theme for the wedding, you could go for that shade, especially if your groom or bridesmaids are wearing that color too. Akiko Nails has this design and it's so cute!
26. Spring Wedding Nails
If you're having a spring wedding, then your nails could follow the theme. For instance, we found this really cute design from @nails_by_nicki and think that those minuscule flowers give this manicure such a cute vibe. Try them out yourself!
27. French Ombre
Oftentimes, French manicures are a bit blunt, but this ombre design makes the whole thing look softer. If you want, you can also add a sparkly nail on each hand, as an accent point. The design comes from @nail_sunny.
28. Over the Top
If you'd like, you could also go over the top with your nail design. After all, this is your wedding day and you can go as far as you'd like to. While the design is a bit busy, we were really impressed with what they managed to create here, so check out this pretty idea from@kleidys_nails.
29. Ring on Your Nail
If you want, you can give your nails their own engagement ring! This is a pretty cute design and it will make you stand out on your wedding day. A mix between elegance and glamour, check this out from @salon_glyanec_saransk.
30. Metallic Rose
A metallic rose shade will go so pretty with any shade of the dress. If you also have some pink roses in your bouquet, it will look even better. Demure, but daring, this manicure from @laurenbbeauty may be perfect for your big day!
31. Flowery Nails
Built on a nude base, these nails bring in a bit of shimmer through the golden leaves on the flowers they drew on. It's such a cute and timeless design from @zefir_nail_studio that we cannot help but want it done too.
32. Diamond Nails
Whether real or not, it doesn't matter in the end. The important part is that your nails will now match your engagement ring with some little diamonds on them. It's such a pretty design from @ritaremark and we're so in love with it.
33.Put a Ring on It
If you want a cleaner design but with a pop of color, you can choose this one from @nail_swag. Much like you'll soon be wearing a wedding band, so will your nails.
34. Glitter Nails
A little bit of sparkle has never hurt anyone and on your wedding day, you can sparkle as much as you want! Check out this cute rose sparkly manicure from @christaallen that we want for every occasion onwards, not just a wedding.
35. Flowery Waves
A delicate manicure for your wedding day features subdued colors and a pretty design. This time around, we're voting for this wonderful design from @nails_vierumihaela that features a delicate flower and some pretty waves on the other nails.
36. Bold and Red
Nude and white nails for your wedding days are great, but why not go for a bold red shade? Pair up your nails with a bouquet of red roses and you're good to go! Check out this cute design from nailsbypaulin.
37. Glam Nails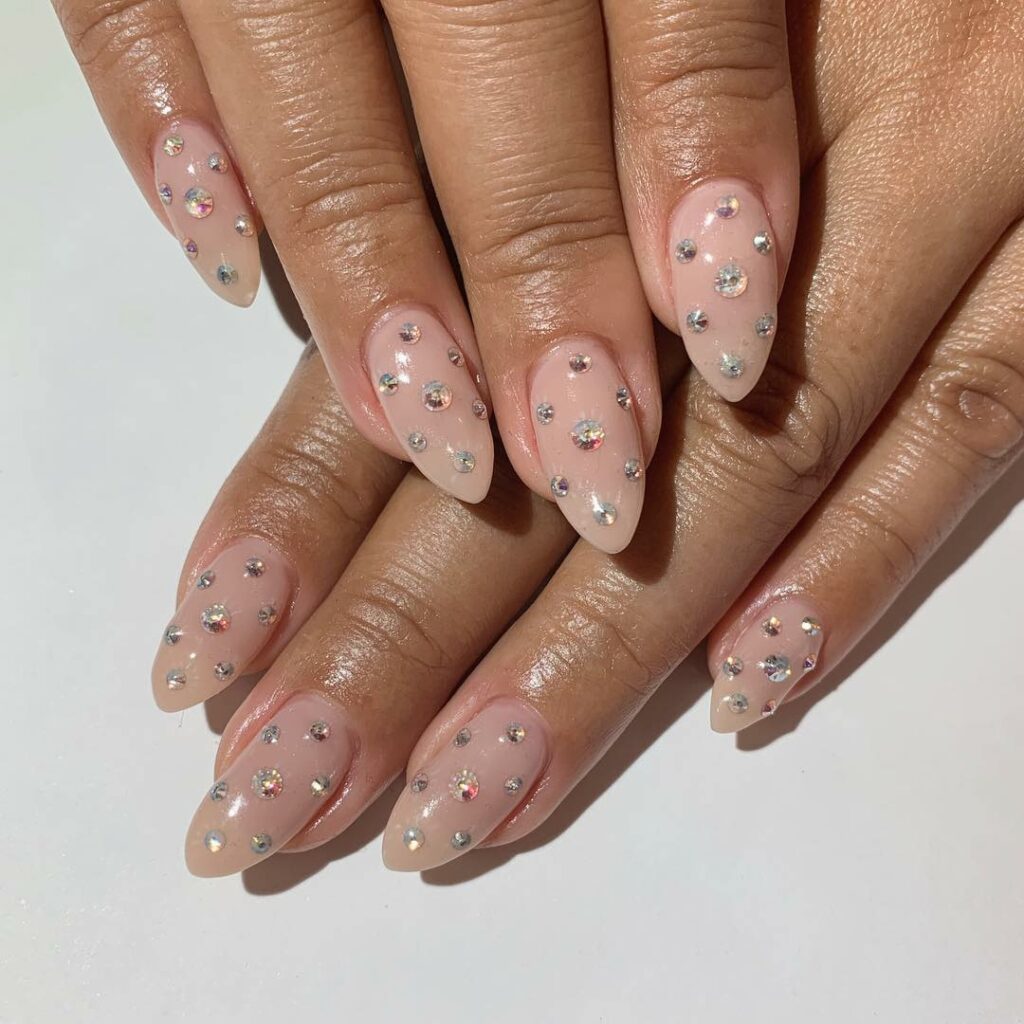 Why not add a bunch of rhinestones to your nails on your wedding day? We found this cool design on @narinanails Insta page and we fell in love with it. If you don't go full-glam on your wedding day, then when should you?
38. Flowery French
When you want something classic and beautiful, you can go for this flowery French manicure. It's cute and beautiful and will not distract from your wedding dress. The design comes from @sarossyeva.
39. Flowers and Sparkle
We're going for some flowers and sparkling nail polish now. It's a busy design from @nailartjakartabarat but those flowers are so adorable we couldn't pass them up.
40. Abstract
A cute idea you can go for is this abstract design from @nail_ideas_alis that will keep things interesting. Plus, you're spelling out Love in there, so it's perfect for a day when you celebrate love itself.
41. Speck of Gold
On your special day, you need to shine, so check out this really cute design from @weddingsbruidsmode that adds a speck of gold to your nails. The color looks great with the milky white background and we're sure you love it too!
42. Go Bold
Indian weddings are all about bold colors, so this manicure in rich jewel tones falls in perfect line with that. We love how ornate this design is and how well the colors fit together. The design goes to @glimpsengloss_nails.
43. Something Blue
Your bridal nails don't need to be nude or white or French. They need to be however you want them to, even if some of your nails are blue. And look how pretty these blue nails from @nails_by_zaru are!
44. Elaborate Nails
For some brides, the wedding day is the time when they go all out with their nails, and this design from @torific.nails is certainly that. Check out how much detail has gone into making these! So pretty!
45. Sparkly Snow
Mixing in a soft pink shade with the silvery glimmery nail polish makes us think about a silvery and sparkly snow. this beautiful design from @glory_nails_by_arti makes us want to get married in the winter!
46. Gold Flowers
If you want to add a bit of gold to your nails on your wedding day, then this particular design from @yukamizz will work just as well. It's so pretty! The way the gold flowers look is amazing!
47. Butterfly Nails
Butterflies represent the beauty of nature, so wearing one on your wedding day can only bring good things. This design from @hermosas__nails is particularly beautiful and everyone who loves butterflies will love this one too!
48. Soft Blue
A watered-down shade of blue like this one will go with your day perfectly. Simple and beautiful, your nails will match you perfectly. Found this on @bnailsstudio.bc.
49. Mixed Designs
Mixing in jewels with stand-out colors makes this manicure look perfect. We have a few nails done in ombre french, while others in French sides. It looks just wonderful thanks to @nailsbyceciliaestrada.
50. Geometric French
The final design on our list comes from @everbless_nails and brings a geometric touch to the classic French manicure. It's such a pretty design, complete with an accent nail!
Final Thoughts on Bride Wedding Nails
Every bride has a style of her own and we are sure to have offered quite a wide palette of designs that you could ask your nail technician to create for you should you choose one from here. In the end, we're sure you'll choose one that will go with your style perfectly